2014 Raleigh Cyclocross Bikes RXC Pro Disc, RXC Disc, RX 2.0 and RX 1.0 Women's Specific
Lighter. Faster. Higher Performance. These 2014 Cyclocross bikes were debuted at Sea Otter Classic, showing off some significant changes to the returning models. All of the models are at least a half a pound lighter than last year's version.
"There really isn't a single element of our CX bikes that we didn't review and think through about how we can improve the product. Wheels, parts, saddles, and frames all went through significant changes, which is resulting in huge improvements on an already solid line," said Chris Speyer, COO of Accell North America.
Raleigh's carbon offerings are all disc brake models. The Pro model comes with Ultegra Di2, ENVE's CX Disc fork, and now features a bright blue color scheme, while the RXC Disc stays black and comes with Raleigh's own disc fork.
The lower end models get alloy frames that are the lightest and highest performance cyclocross frames that Raleigh has made to date.
Let's throw a bunch of Specs at you. Ready?
RXC Pro Disc
Frame: Carbon Direct Connect, Disc Mount, Tapered Headtube, Electrical or Mechanical routing, PF30 BB
Fork: Enve Carbon Monocoque 1.125″ to 1.5″Taper, Post-Mount Disc
Brakes: Shimano CX75 Disc Brakes
Shifting: Shimano Ultegra Di2, CX75 Cranks, 46x36t Chainrings
Cockpit: FSA SLK bar and stem
Bartape: CX Specific BarTape, all condition grip and increased shock absorption
Wheels: American Classic Hurricane Disc with custom graphics, 22mm wide rims
Tires: Clement Crusade PDX, 700x33c, 120tpi, Folding
Post/Saddle: Raleigh 2014 Alloy Dual Bolt, 20mm Offset, Prologo Nago Evo
MSRP: $5000
Sizes: 50, 53, 55, 57, 59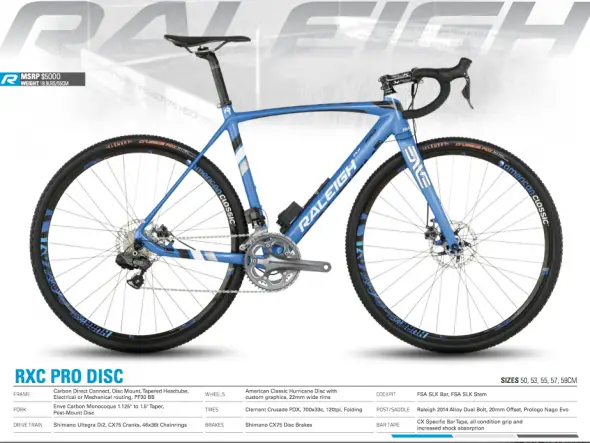 RXC Disc

Frame: Carbon Direct Connect, Disc Mount,Tapered Headtube, Electrical or Mechanical routing, PF30 BB
Fork: Raleigh Carbon Monocoque 1.125″ to 1.5″Taper, Post-Mount Disc
Brakes: Hayes CX5 Disc Brakes
Shifting: Shimano 105, FSA Gossamer Cranks, 46x36t Chainrings
Cockpit: Raleigh Butted Short Reach Bar, Raleigh 3D Forged Stem
Bartape: CX Specific BarTape, all condition grip and increased shock absorption
Wheels: American ClassicTCX Disc with custom graphics, 26mm wide rims
Tires: Clement Crusade PDX, 700x33c, 120tpi, Folding
Post/Saddle: Raleigh 2014 Alloy Dual Bolt, 20mm Offset, Prologo Nago Evo X8
MSRP: $2700
Sizes: 50, 53, 55, 57, 59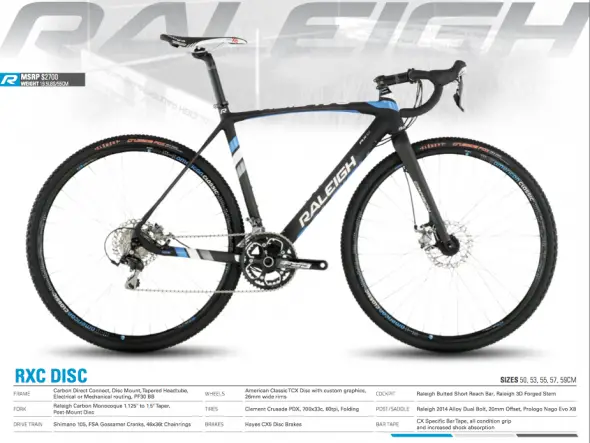 RX 2.0
Frame: 6061 Double Butted Alloy, Disc Mount, Tapered Headtube & Seattube, Flat Oval Downtube & Seatstay, PF30 BB
Fork: Raleigh Carbon 1.125″ to 1.5″ Taper, Post-Mount Disc
Brakes: Hayes CX5 Disc Brakes
Shifting: Shimano 105, FSA Gossamer Cranks, 46x36t Chainrings
Cockpit: Raleigh Butted Short Reach Bar, Raleigh 3D Forged Stem
Bartape: CX Specific BarTape, all condition grip and increased shock absorption
Wheels: Novatec Sealed Bearing Hubs, Weinmann 23mm wide Impulse rims
Tires: Schwalbe Racing Ralph Performance, 700x33c, Folding
Post/Saddle: Raleigh 2014 Alloy Dual Bolt, 20mm Offset, Raleigh CX Saddle
MSRP: $1750
Sizes: 52, 54, 56, 58, 60, 62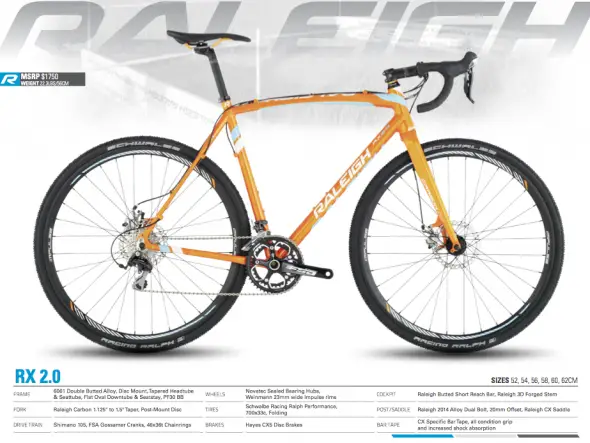 RX 1.0 Women's Specific
Frame: 6061 Double Butted Alloy, Tapered Headtube & Seattube, Flat Oval Downtube & Seatstay, PF30 BB
Fork: Raleigh Carbon 1.125″ to 1.5″ Taper, Canti-Bosses
Brakes: Tektro CR710 Canti Brakes
Shifting: Sram Apex, FSA Gossamer, 46x36t Chainrings
Cockpit: Raleigh Short Reach Bar, Raleigh 3D Forged Stem
Bartape: CX Specific BarTape, all condition grip and increased shock absorption
Wheels: Formula Smooth Bearing Hubs, Weinmann 23mm wide XP Elite rims
Tires: Schwalbe Racing Ralph Performance, 700x33c, Folding
Post/Saddle: Raleigh 2014 Alloy Dual Bolt, 20mm Offset, Raleigh CX Saddle
MSRP: $1550
Sizes: 48, 50, 52, 54, 56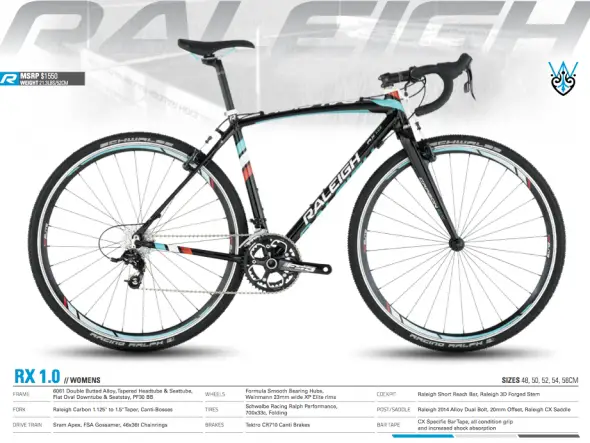 RX 1.0

Frame: 6061 Double Butted Alloy, Tapered Headtube & Seattube, Flat Oval Downtube & Seatstay, PF30 BB
Fork: Raleigh Carbon 1.125″ to 1.5″ Taper, Canti-Bosses
Brakes: Tektro CR710 Canti Brakes
Shifting: Sram Apex, FSA Gossamer, 46x36t Chainrings
Cockpit: Raleigh Short Reach Bar, Raleigh 3D Forged Stem
Bartape: CX Specific BarTape, all condition grip and increased shock absorption
Wheels: Formula Smooth Bearing Hubs, Weinmann 23mm wide XP Elite rims
Tires: Schwalbe Racing Ralph Performance, 700x33c, Folding
Post/Saddle: Raleigh 2014 Alloy Dual Bolt, 20mm Offset, Raleigh CX Saddle
MSRP: $1550
Sizes: 52, 54, 56, 58, 60, 62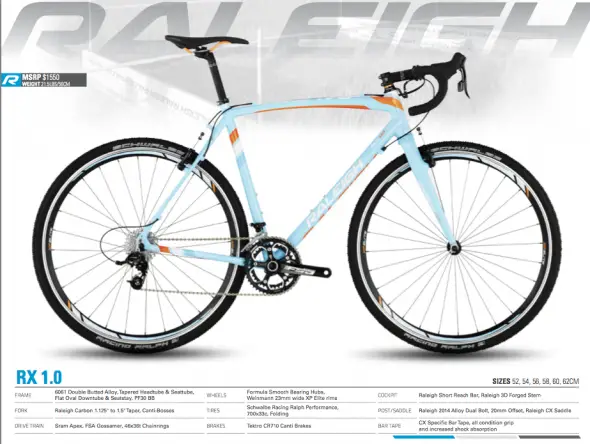 RIDE-A-BIKE SHOP - 116 NE COURT SQUARE, LINCOLNTON, NC - 704 735-1746